---

Olmo is one of the historic and iconic Italian bicycle marques from their beginning in 1939.  Olmo has a unique blend of high tech, quality and at a great value.  They manage their business with great efficiency and thus are able to supply road bikes that would cost hundreds more from highly marketed brands.  Since 1939 the founder Giuseppe Olmo insisted on performance racing bikes that are responsive but easy handling and the geometry evolved with the new materials of the 21st century but to ride an Olmo is an exhilarating experience.
Giuseppe Olmo was a great Italian champion in the 1930s, winner of Milan-San Remo and holder of the World Hour Record.  After he retired from his cycling career he began the production factory that bears his name.  "Gepin" as he is known to his friends built the Olmo factory  as one of the largest in Italy and left to his successors a great heritage of quality work, performance driven and aesthetically Italian style worthy of his family name.
Red Rose Imports began the partnership with Olmo in 1996 and for over 20 years has proudly represented this brand in North America.  The new range is state of the art carbon frames made from the most technically advanced carbon material.  The Gepin model, the flagship, is the perfect blend of lightness, stiffness and rideability.  No barriers exist when building this frame and the performance is stunning.  The new Time Trial machine is the 911 and this model is designed for only one purpose; to cut the wind and go fast!  Make your best time trial splits on the 911.  The Zero Uno model is the best value racing bike from Olmo is the choice of the professional team Sangemini-Mg.K Vis-Olmo-Vega.  And for the endurance rider and club cyclist the Zero Tre is the perfect model to start.
For purchase we encourage you to work with your favorite local bike shop or you can contact us directly for technical assistance.  Like thousands of cyclists before the road is more enjoyable on an Olmo!
Olmo Gepin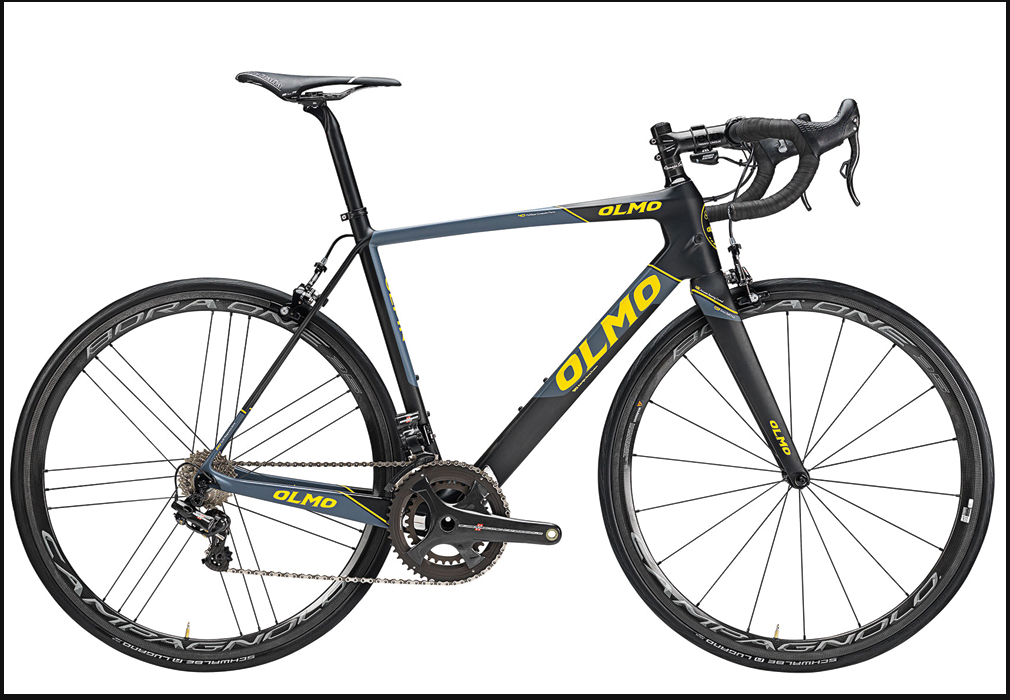 Olmo Gepin Special
Frameset  $2995
Complete bike with Campagnolo Record kit includes
Campagnolo Record group
Campagnolo Shamal wheels
Continental Grand Prix 5000 tires
Deda Zero 100 bar and stem
Deda Superleggero carbon seatpost
Fizik Arione saddle
Complete bike SALE PRICE   $5995
---
OLMO ZERO TRE SPECIAL
Spring riding season is here and time to upgrade your ride to the new Olmo Zero Tre.  This carbon frame features carbon material made by Toray Industries in an endurance geometry.  Special attention is paid to tube shapes to maximize stiffness at the head tube and bottom bracket while allowing comfort in the rear triangle.  Although the material is designed to top level race bike the frame geometry is a bit more forgiving and comfortable.  The frame accepts all mechanical or electronic groups.  We can custom build this Olmo frame with the group and wheels of your choice. Or purchase the complete Campagnolo Centaur kit including Miche Reflex wheels, Continental tires, Fizik saddle and Deda Zero 1 bar, stem and seatpost.
Special complete bike price with Campy Centaur kit    $2650  Hurry limited to stock on hand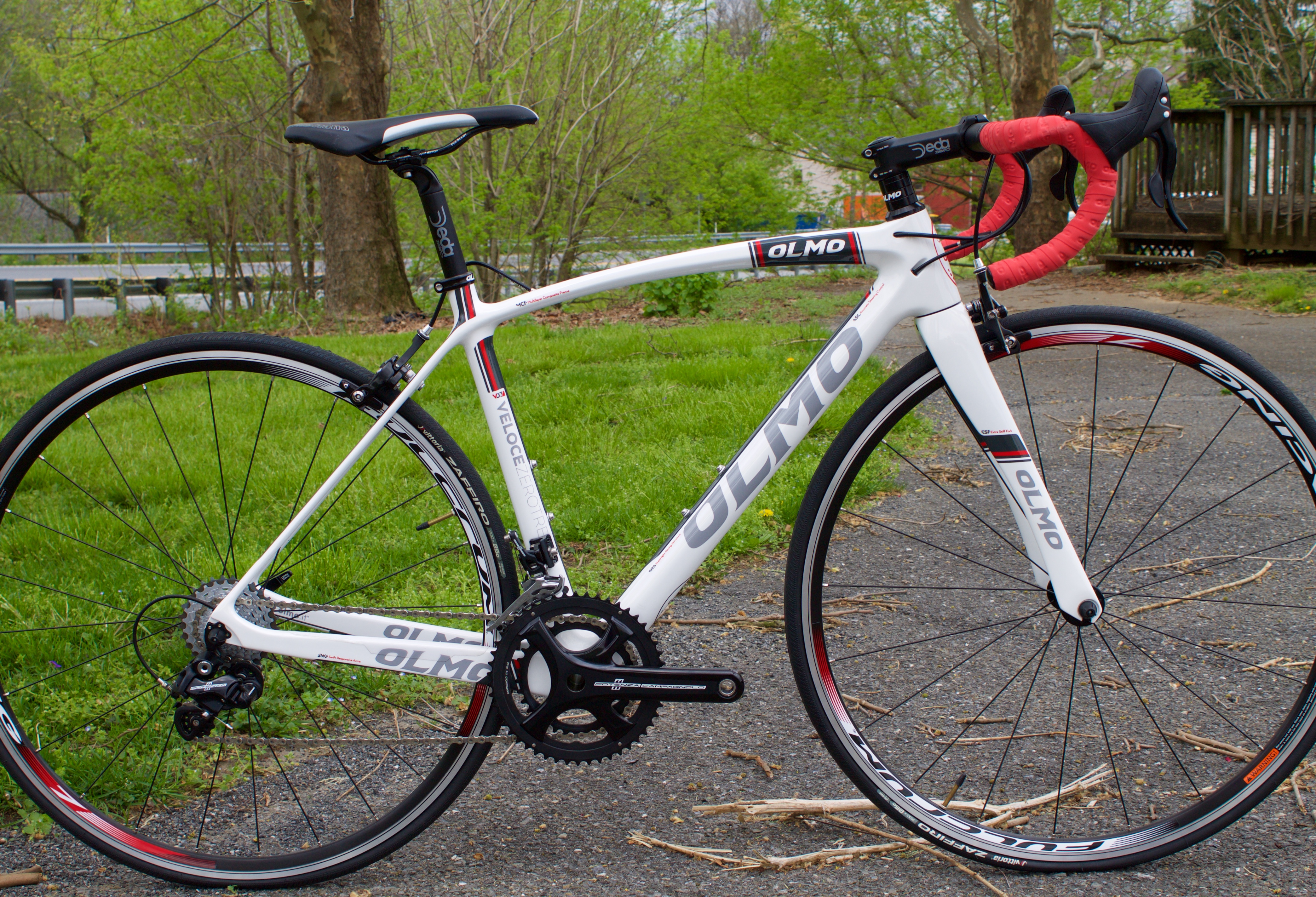 ---
OLMO Zeffiro VCT
 Italian made top range carbon frame.  Distinctive for it's smaller diameter carbon tubes the Zeffiro VCT is extra light frame with excellent frame balance.  The ISP improves the longitudinal stiffness.  You feel one with the bike.  We only have 1 Zeffiro VCT left in stock and size L.  The L has an effective top tube of 54.8 cm and a head tube length of 150mm.  Seat tube angle is 74.25.  Frameset includes frame, fork, headset and seatpost
Zeffiro VCT frameset price MSRP  $4295    SALE PRICE   $2595
Complete Bike Offer
Zeffiro VCT frame set
Campagnolo Record 12 spd group
Campagnolo Shamal Ultra wheels
Continental GP 5000 tires
Deda Zero 100 bar and stem
Olmo Team saddle is Selle Italia SLR Flo
Complete bike price   $6195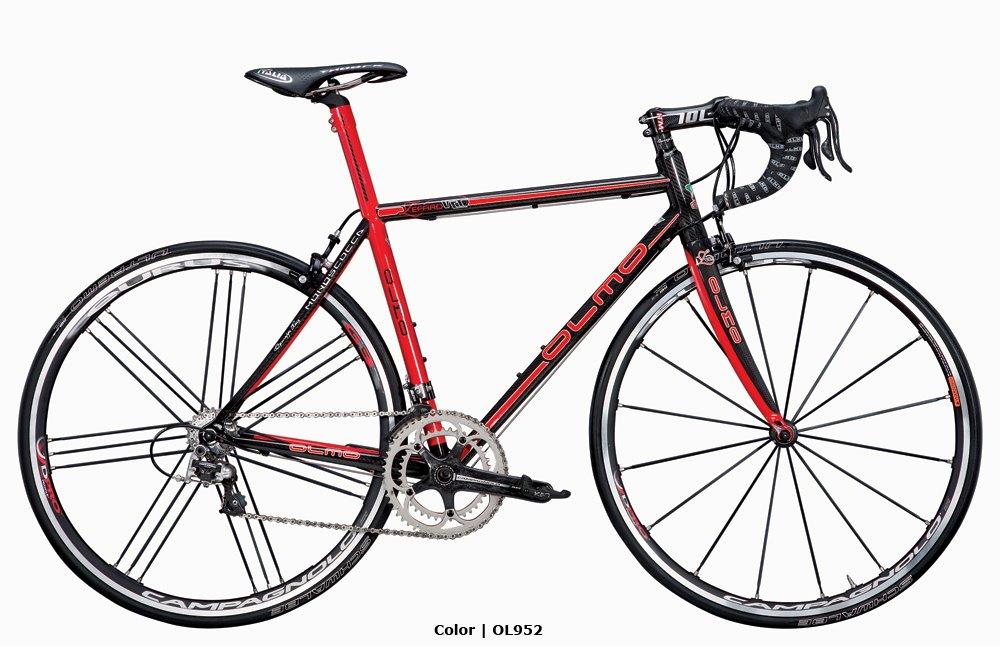 ---
OLMO TECNO KT
is an Italian made carbon racing frame built with Easton GX2 carbon.  Olmo engineers added titanium mesh to re-inforce the carbon material for added strength and to increase the liveliness of the ride.  Tecno KT has superb ride qualities; very light, excellent stiffness at the bottom bracket area, perfect balance and good comfort.  Perfect for racing and gran fondos.  We have 1 of these exceptional frames left and it is size L.  Sloping frame with seat tube length 52cm and top tube length 54.8 and head tube length of 145mm.  The seat angle is 74 degrees
OLMO Tecno KT frame set MSRP $2995   Sale Price  $1995
Complete Bike Offer
Olmo Tecno KT
Shimano Ultegra group
Miche Race Pro wheels
Continental GP 5000 tires
Deda Zero 2 stem and RHM 2 bar
Olmo Team saddle Selle Italia SLR Flo titanium
Complete bike price   $3295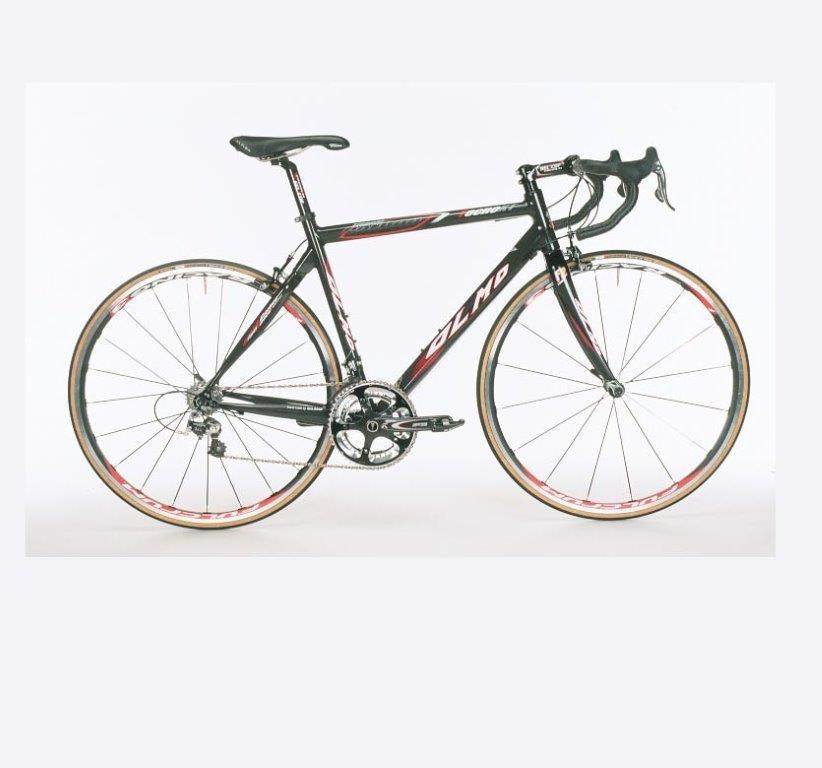 ---
OLMO STARDUST +
is professional team frame aluminum with GX2 carbon rear stays.
Only 1 left in size 55cm with 55.1cm top tube.
OLMO Stardust + MSRP  $2495   Sale Price  $1295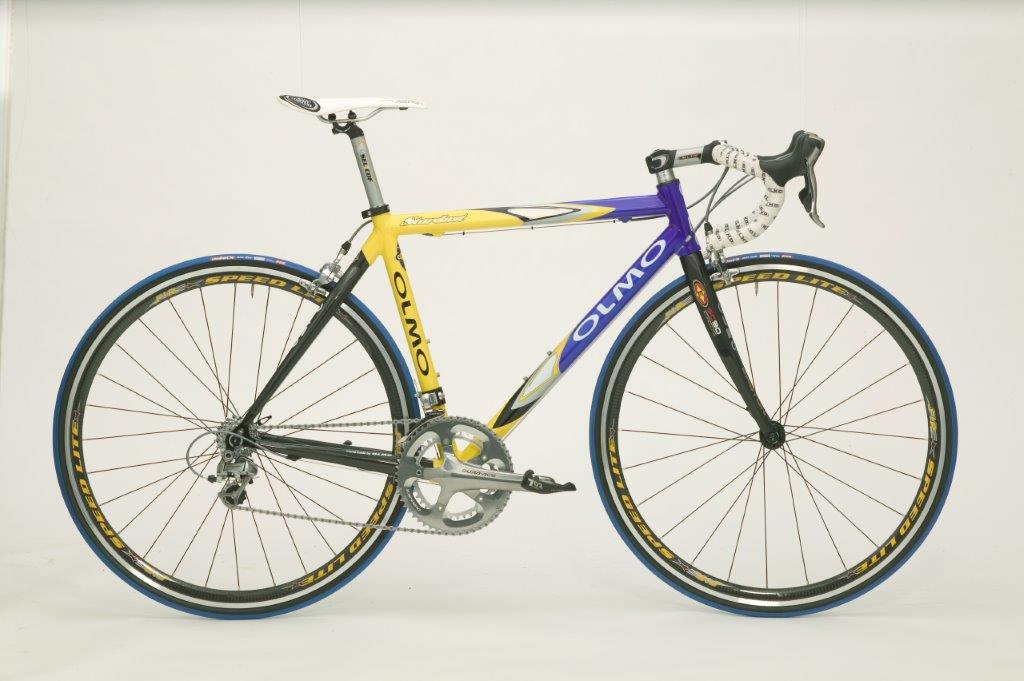 ---
OLMO DYNAMIC +
is lightweight aluminum frame with carbon rear stays.  This complete bike is built with new Shimano Ultegra 8000 11 spd group and Vision Tech Team 35 wheels.
OLMO Dynamic + Complete Bike
Shimano 105 R7000 group
Miche Reflex wheels
Continental Ultra Sport tires
Deda Zero 2 stem and RHM 2 bar
Deda Tape
Selle Italia SL1 saddle
MSRP  $2995    SALE PRICE  $1995