Classic Steel Frames
New Griffe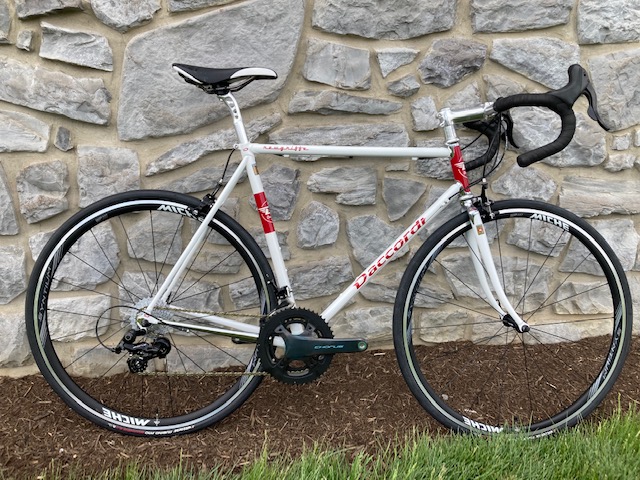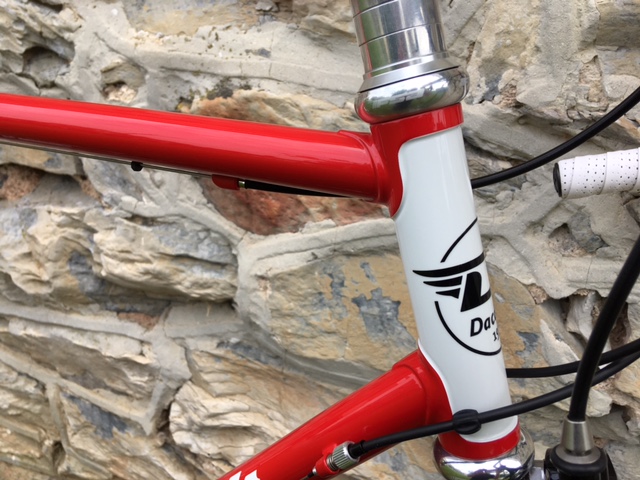 Daccordi Heritage model road bike is the New Griffe. Originally built in 1987 this iconic model was raced professionally in the 90's with many great victories. Frame is built with New Columbus SL tubing with upgrades to dimensions and wall thickness and in the classic lugged style. The quality of brazing and hand filing is showcased in the New Griffe model. Also a technical innovation developed by Daccordi engineers is the forward seat tube position of the multi-dimension bottom bracket. The seat tube is brazed closer to front wheel to increase stiffness and improve reactivity. This design creates a dynamic ride with improved climbing and more stability. Of course like all classic Italian steel lugged frames New Griffe features chrome trim and chrome steel fork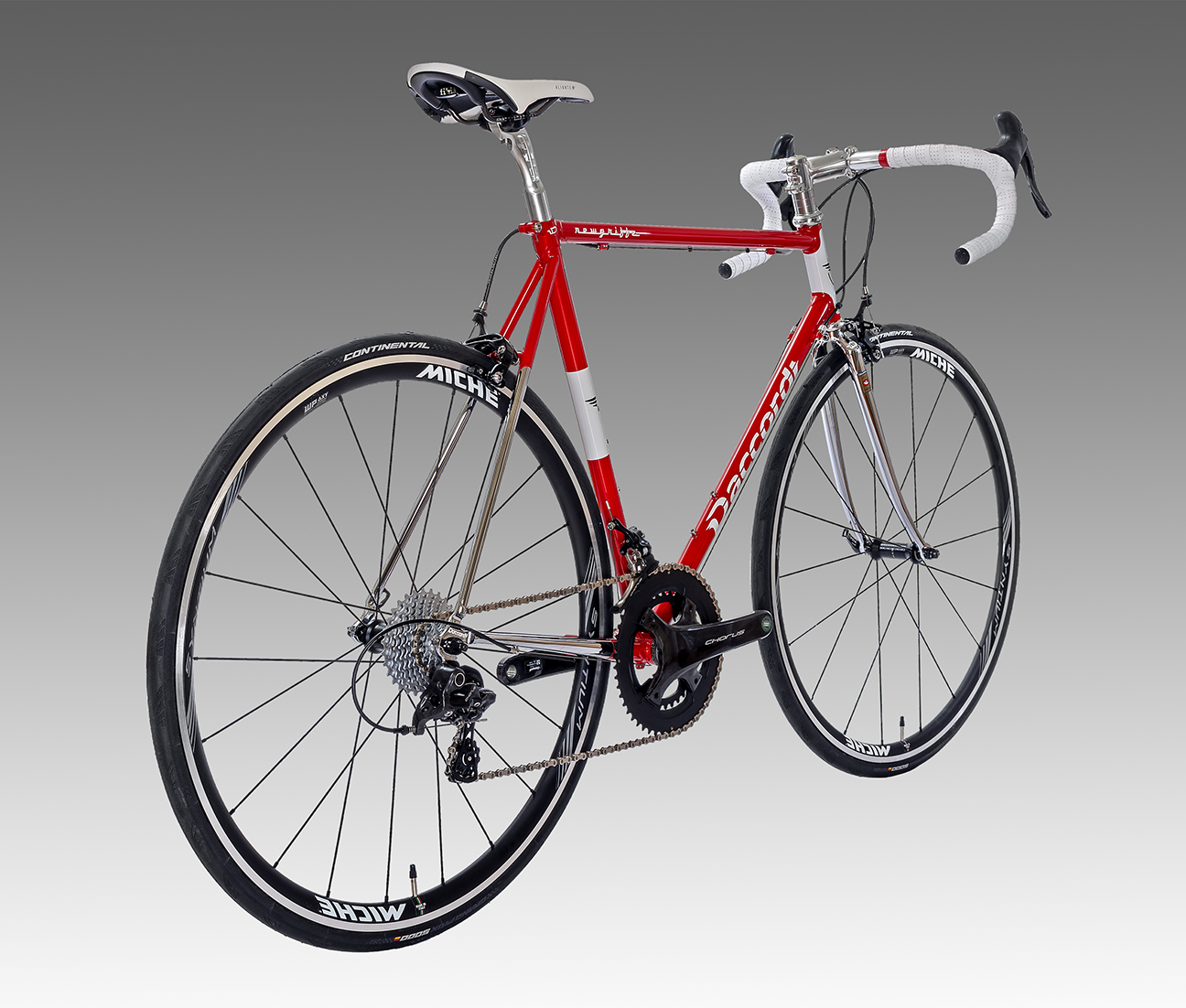 Features
Lugged frame with Columbus SL
Chrome trim and Chrome steel fork
Forward position of seat tube
Frame weight 1400 grams
New Griffe Frameset Price. $2495
Complete Bike Special
Daccordi New Griffe frame set
Campagnolo Chorus group
Miche Syntium wheels
Continental GP 5000 tires
Velo Orange stem
Deda Speciale bar
Miche Supertype seat post
Fizik Aliante saddle
Fizik Bar Tape
Special Price  $4995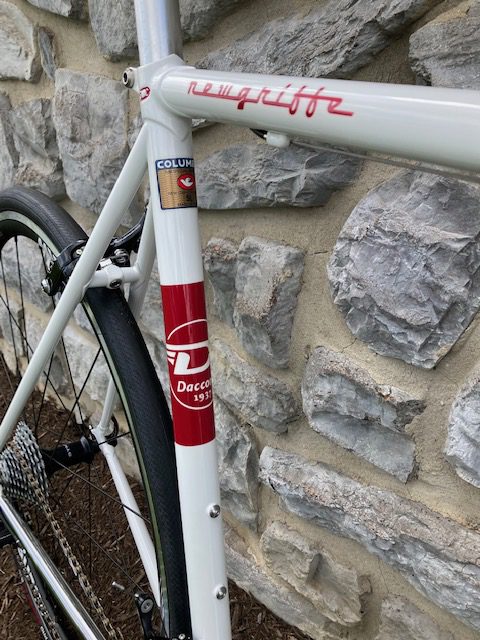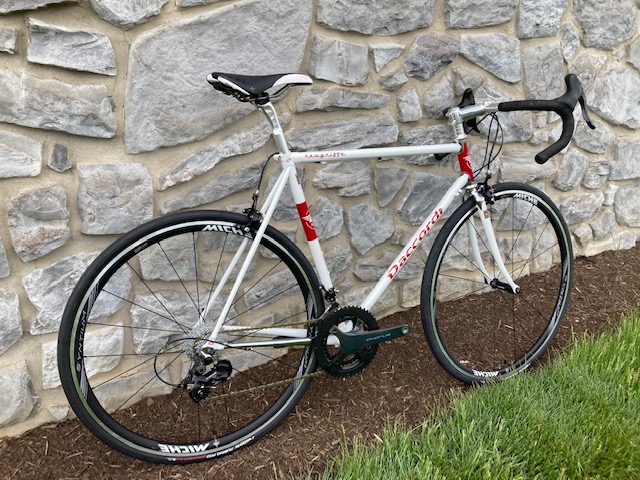 Daccordi New Griffe complete bike is professionally assembled, all components are checked and then carefully packed for shipping.  Bike is shipped via Bike Flights with full insurance.  Minor assembly is required upon receipt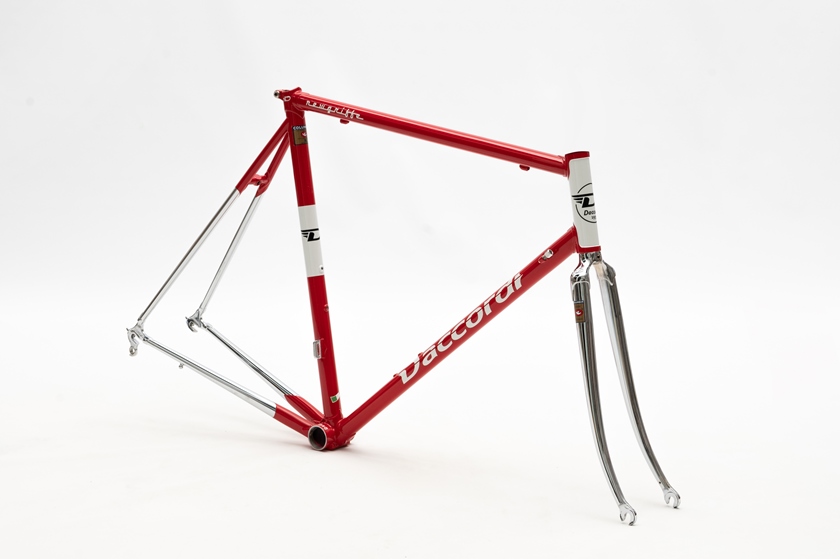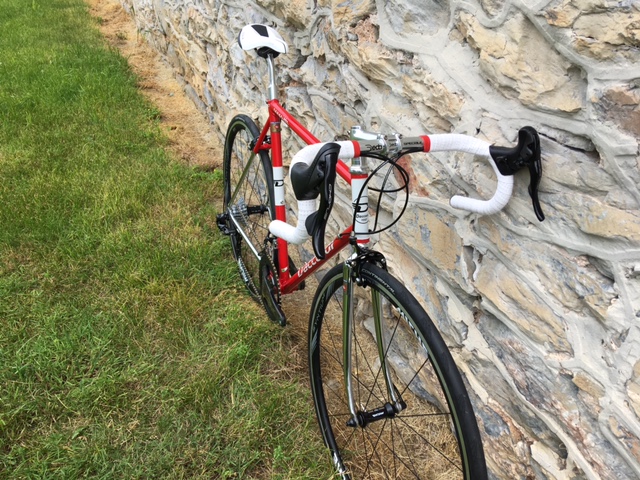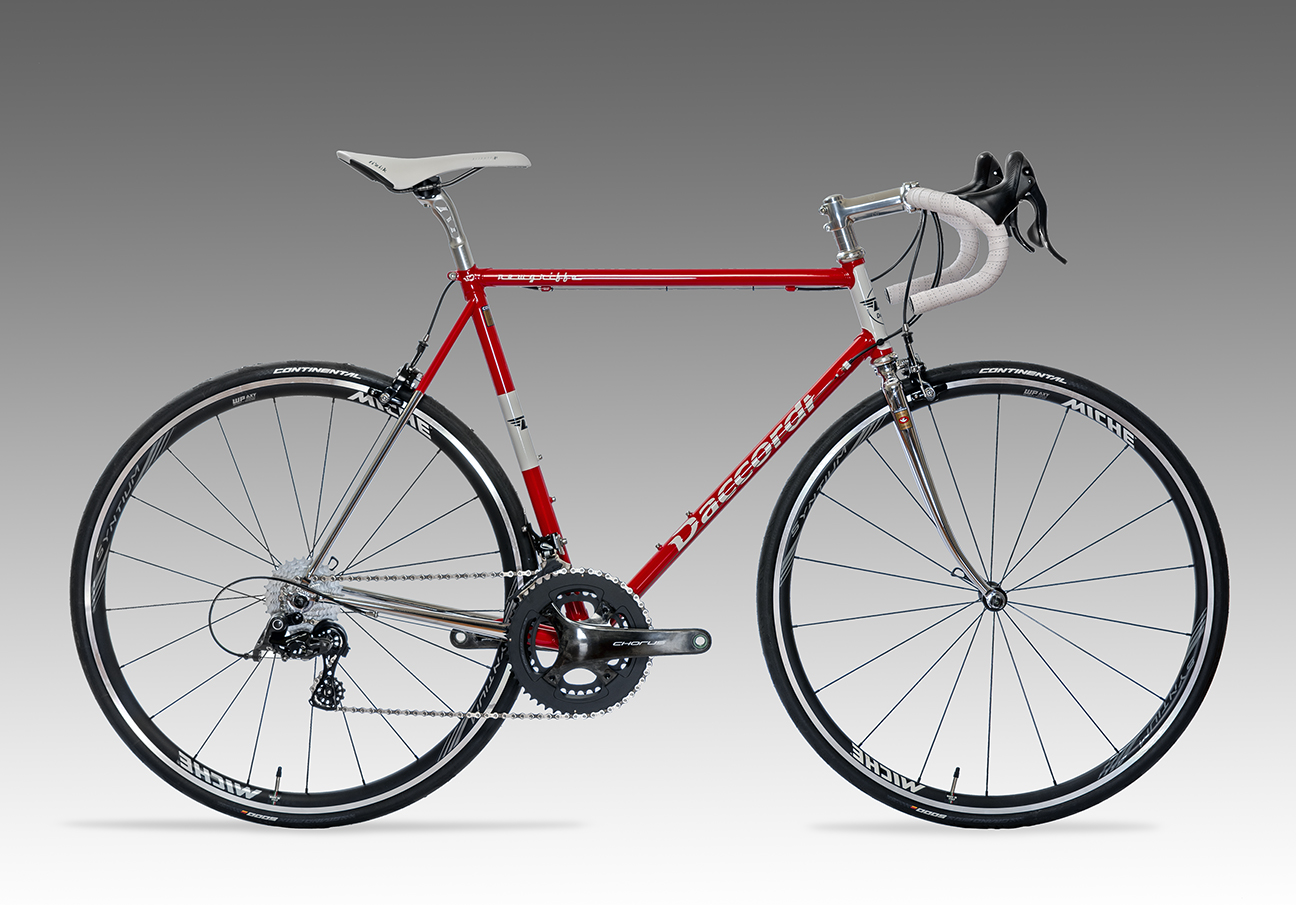 Modern Steel Frames
Borea
Daccordi Borea is the best choice for long distance and endurance riding.  With thinner wall thickness of the special Italian steel tubes Daccordi creates a lighter steel frame and with special geometry designed for endurance the Borea  rides with all day comfort.
Borea steel tubes have minimum thickness of .38mm and with smooth lines of fillet brazed construction this model has incredible stability, lightness, comfort and excellent durability.  The frame features a tapered head tube of 1 1/8 x 1 1/2 and matched to a full carbon fork.  Borea like all Daccordi frames is built and painted in house.  Luscious paint colors finish the frame in a palette of your choice
Frame weight  1250 grams
Frameset includes Carbon fork 1 1/8 x 1 1/2
Borea can be built for rim brake or disc brake
Borea Framset Rim Brake Price  $2895
Borea Frameset Disc Brake Price  $3195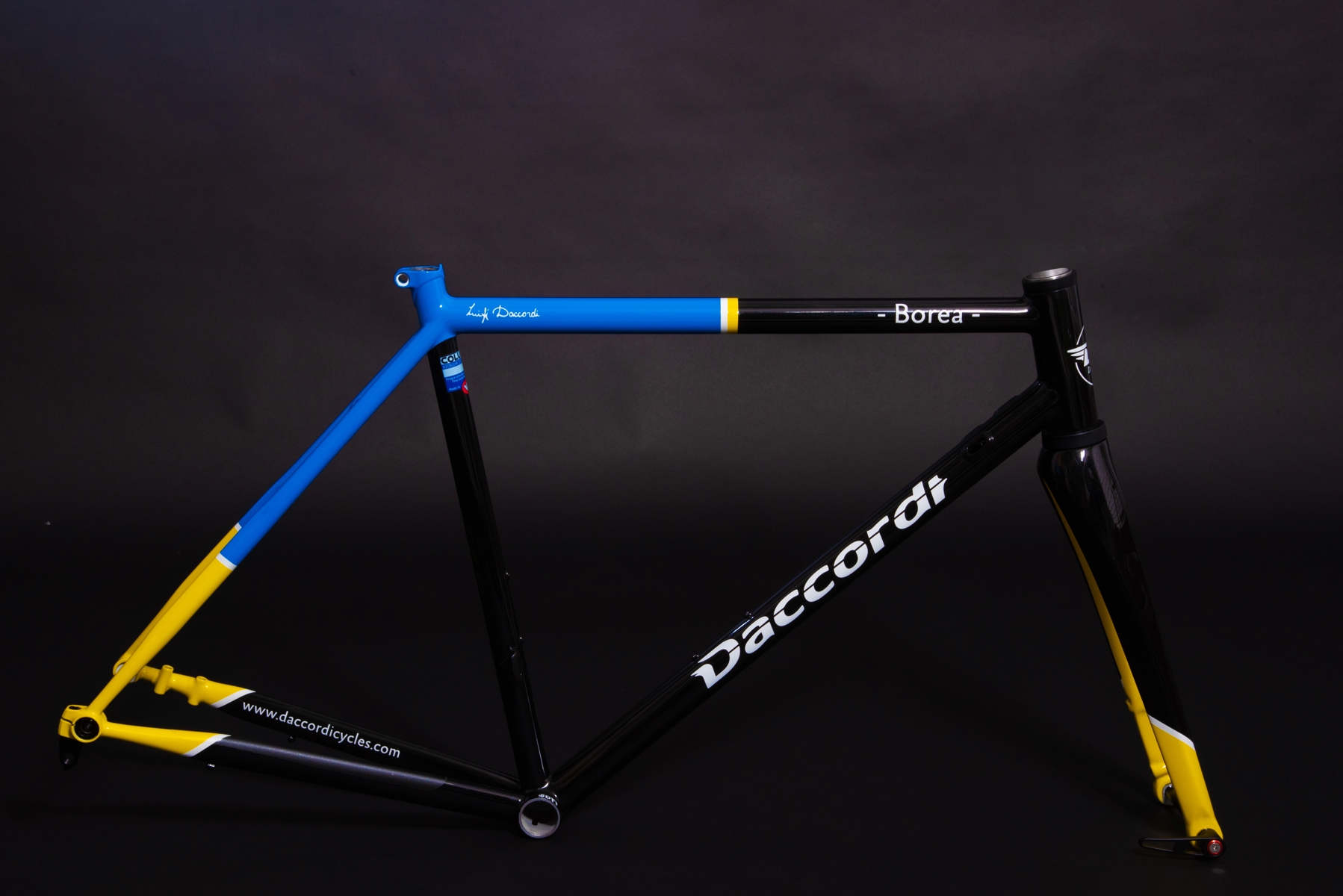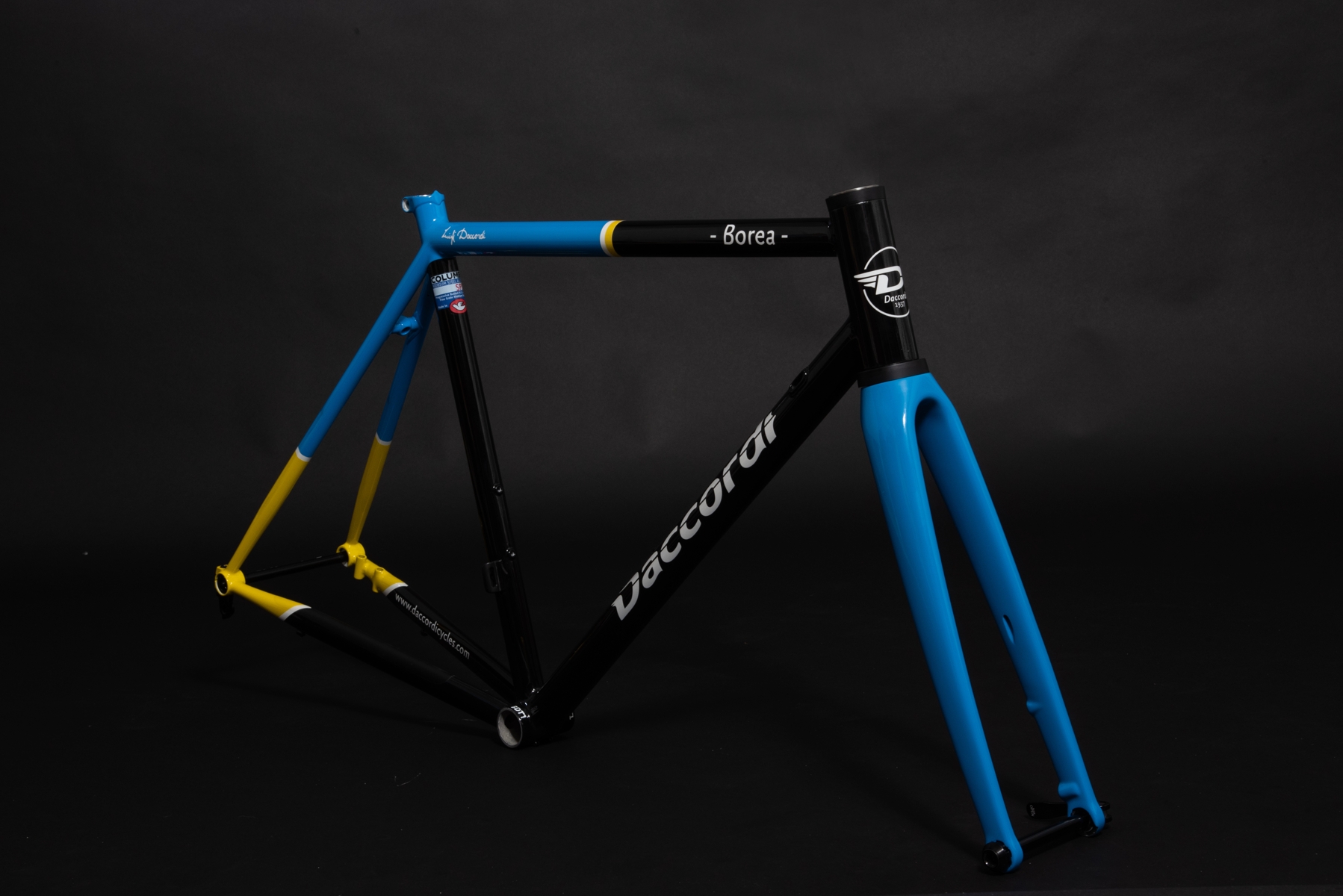 ---
Profidea
A modern frame but already a classic from Daccordi. Profidea has a history from the 1990s as a professional level racing frame and still today this model out performs many of the competitor's carbon bikes. Profidea is light, it is stiff, it is reactive and resilient. This is a bike with all day comfort but you can still kick in a high gear for a sprint. Profidea climbs with alacrity and descends with confidence and stability. This bike is a joy to ride.
Profidea is built with triple butted Nobium steel that has maximum thickness of .8 mm and minimum thickness of .45mm. The frame is carefully fillet brazed and completely hand polished. This method showcases the fine lines and smooth curves of the bicycle frame. The frame is then matched with a carbon fork and tapered front end of 1 1/8 x 1 1/2 to give the bicycle more stability when descending twisting mountain roads.
Profidea can be built for rim brakes or disc brakes.  Frame weight is 1300 grams.  Stock geometry as well as custom geometry are available.
Profidea Rim Brake Frameset Price  $2895
Profidea Disc Brake Frameset Price  $3195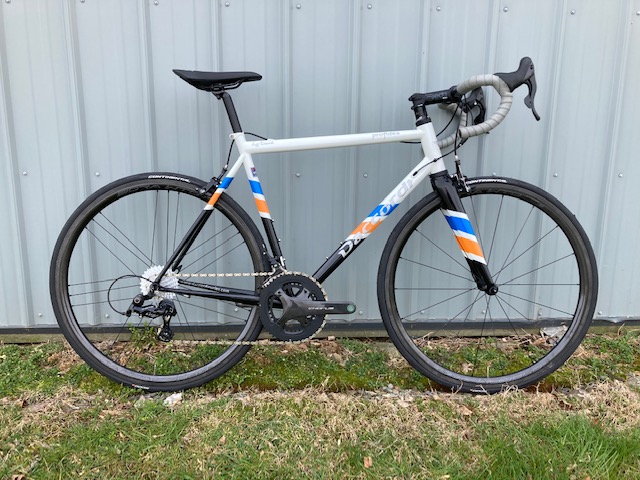 Handmade Italian steel bikes deserve Campagnolo components and our parts kit represents the finest parts from Italian manufacturers; Miche, Deda, Fizik.  Of course if you rather a Shimano or Sram group contact us for a custom build quote
Complete Profidea rim brake bike with Campagnolo Chorus kit
Campagnolo Chorus group
Miche Syntium wheels
Continental GP 5000 tires
Deda Zero 100 bar and stem
Deda Zero 100 seatpost
Fizik Vento Argo R5 saddle
Deda bar tape
Complete bike price. $5650
Upgrade to Campagnolo Record group + $500
Upgrade to Campagnolo Record group & Bora WTO carbon wheels + $3100
For Profidea Disc Brake + 600 to above prices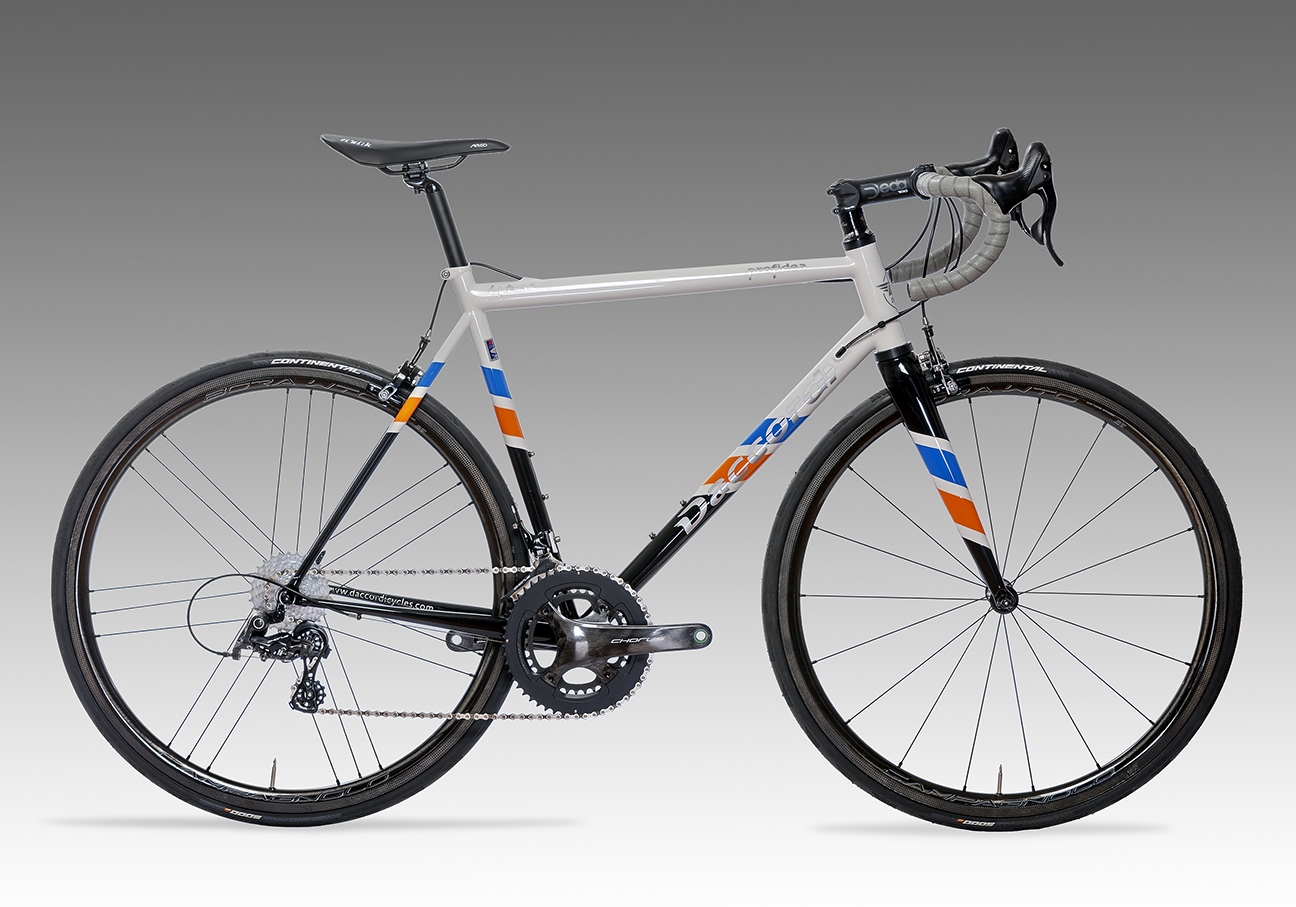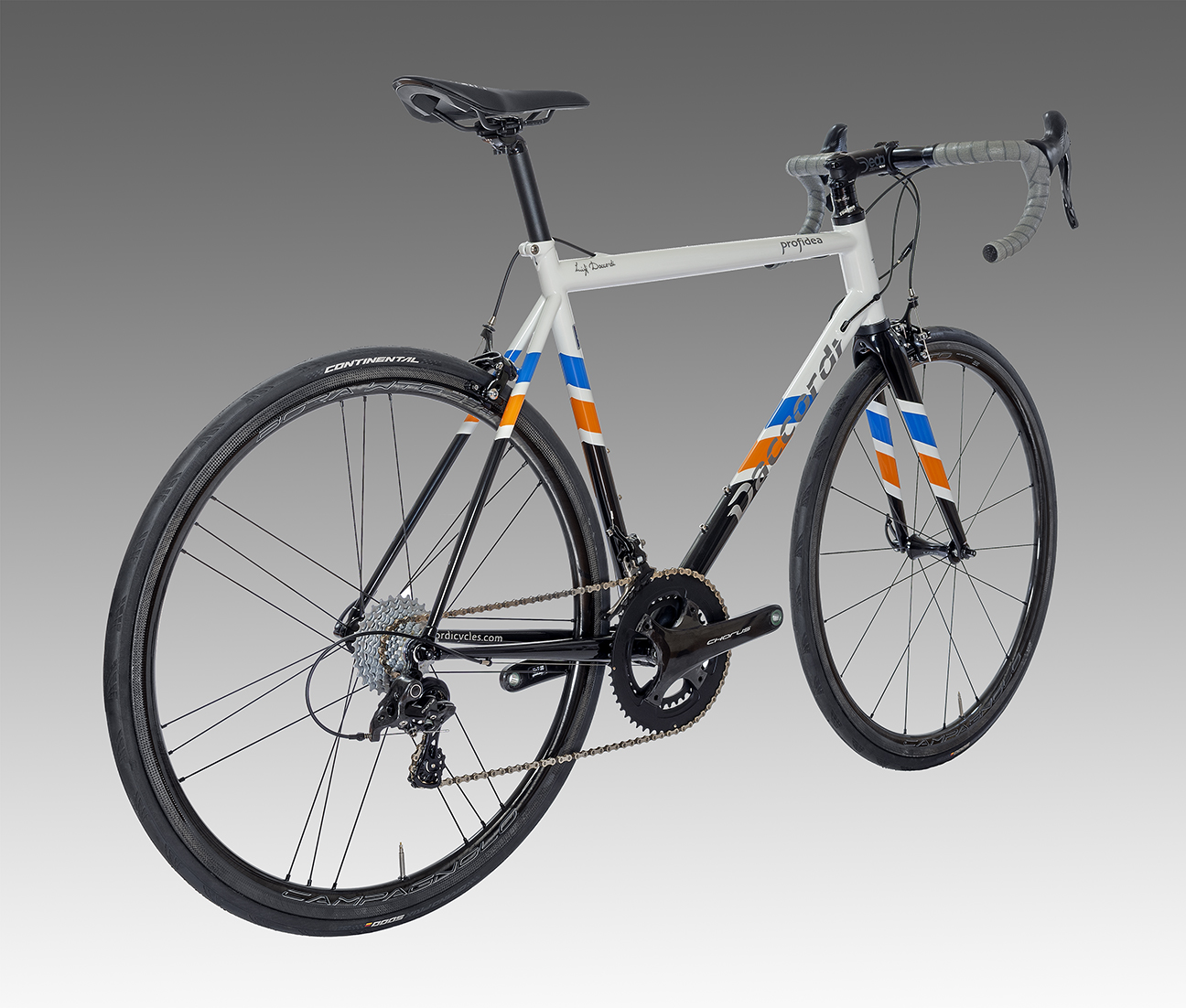 Carbon Frames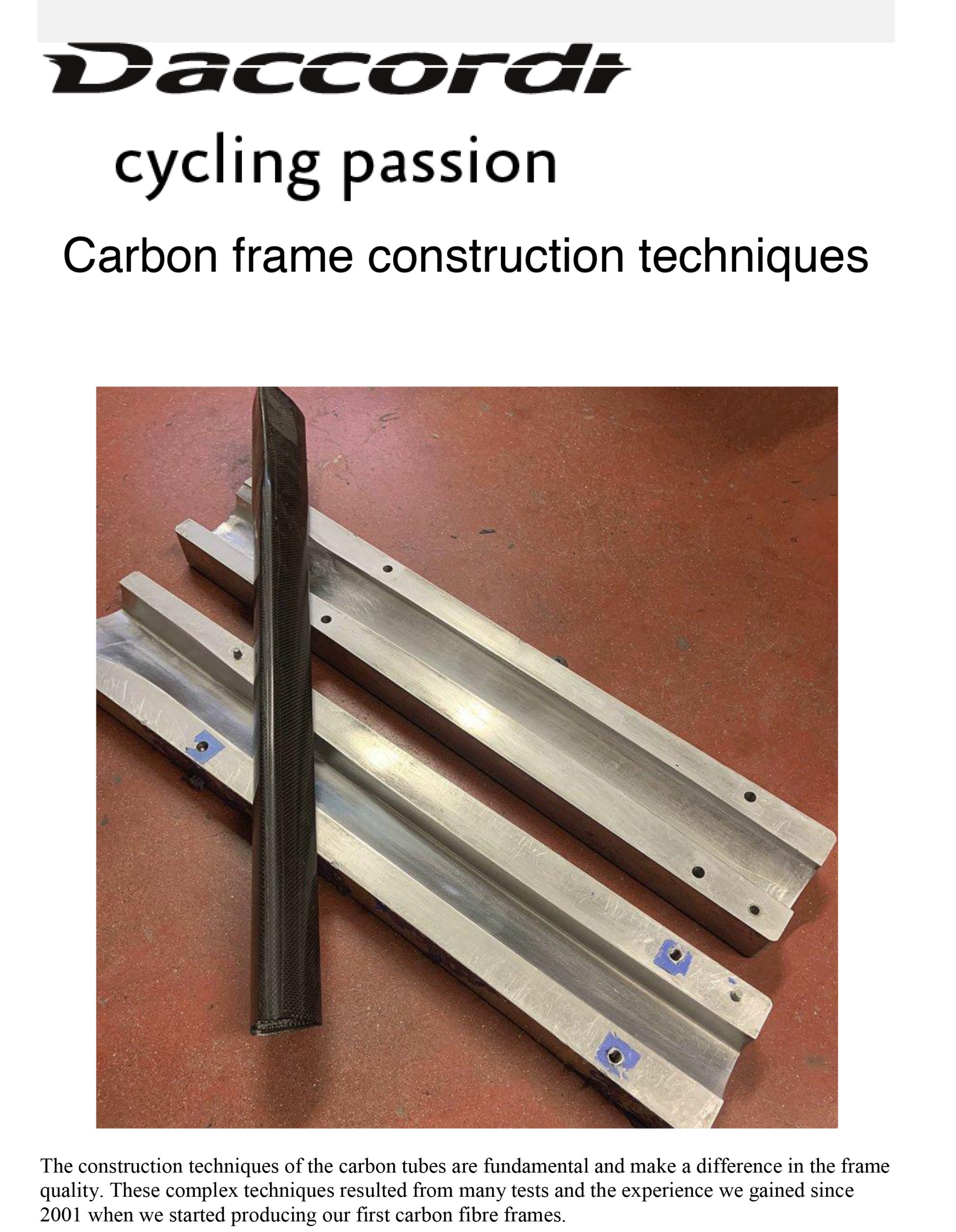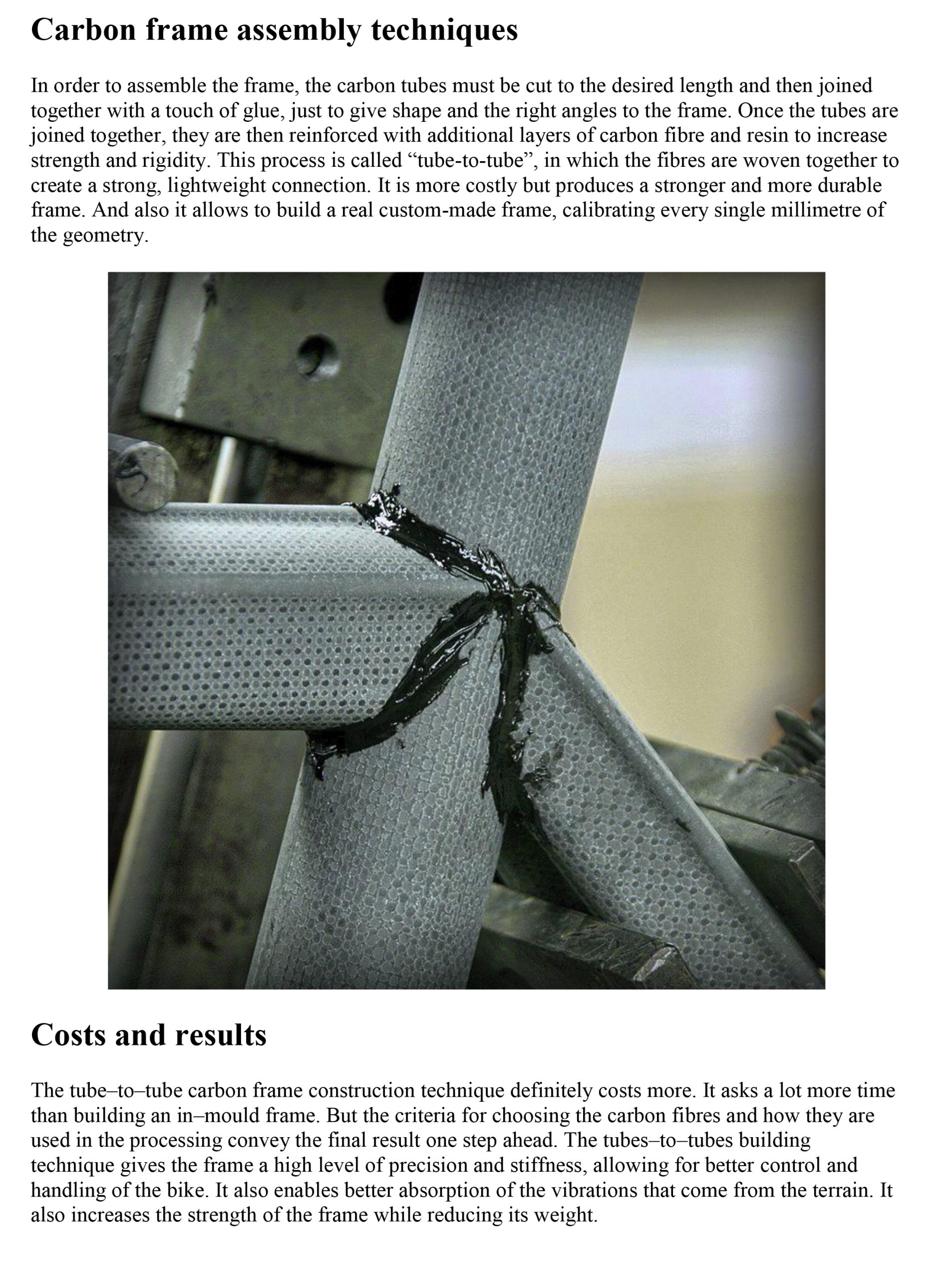 Fly
Daccordi has been at the forefront of Italian carbon frame production at the beginning of use of carbon for professional racing frames.  And unlike other famous carbon brands like Pinarello, Wilier, Carrera etc. Daccordi chooses to build the frame one at a time and with ability to produce in custom geometry.  For this reason Daccordi builds the Fly model in tube to tube method.  It is far more difficult and time consuming than building monocoque or having a big factory in China build monocoque but Daccordi chooses quality over quantity and ultimately chooses customer satisfaction!
The Fly is the ultralight carbon frame in the Daccordi range and with a raw frame weight of 790 grams for rim brake version it has achieved this objective.  Fly is ultralight but without sacrifice in strength and rigidity and rides with incredible precision and deft handling.
When producing Fly the Daccordi technician carefully cuts and mitres the Toray T700 and T800 carbon tubes.  Then the tubes are fastened with an aerospace adhesive.  Careful use of Kevlar inserts are used in high stress areas of the frame to increase strength and durability.  After wrapping the joints in carbon the frame is then vacuum moulded for better homogenous frame strength and integrity.  Daccordi integrates a tapered full carbon fork and the Fly is offered for both rim brake or disc brake
Key information for FLY
Frame weight raw at 790 grams
Toray T700 and T800 carbon with 3K finish
Tapered 1 1/8 x 1 1/2 carbon fork
PF86 bottom bracket
27.2 seatpost diameter required
Built for use with either rim brake or disc brake and accepts all electronic drivetrains
Can be built stock geometry or Custom
Framset Price. $5695 rim brake.   $5995 disc brake
Noah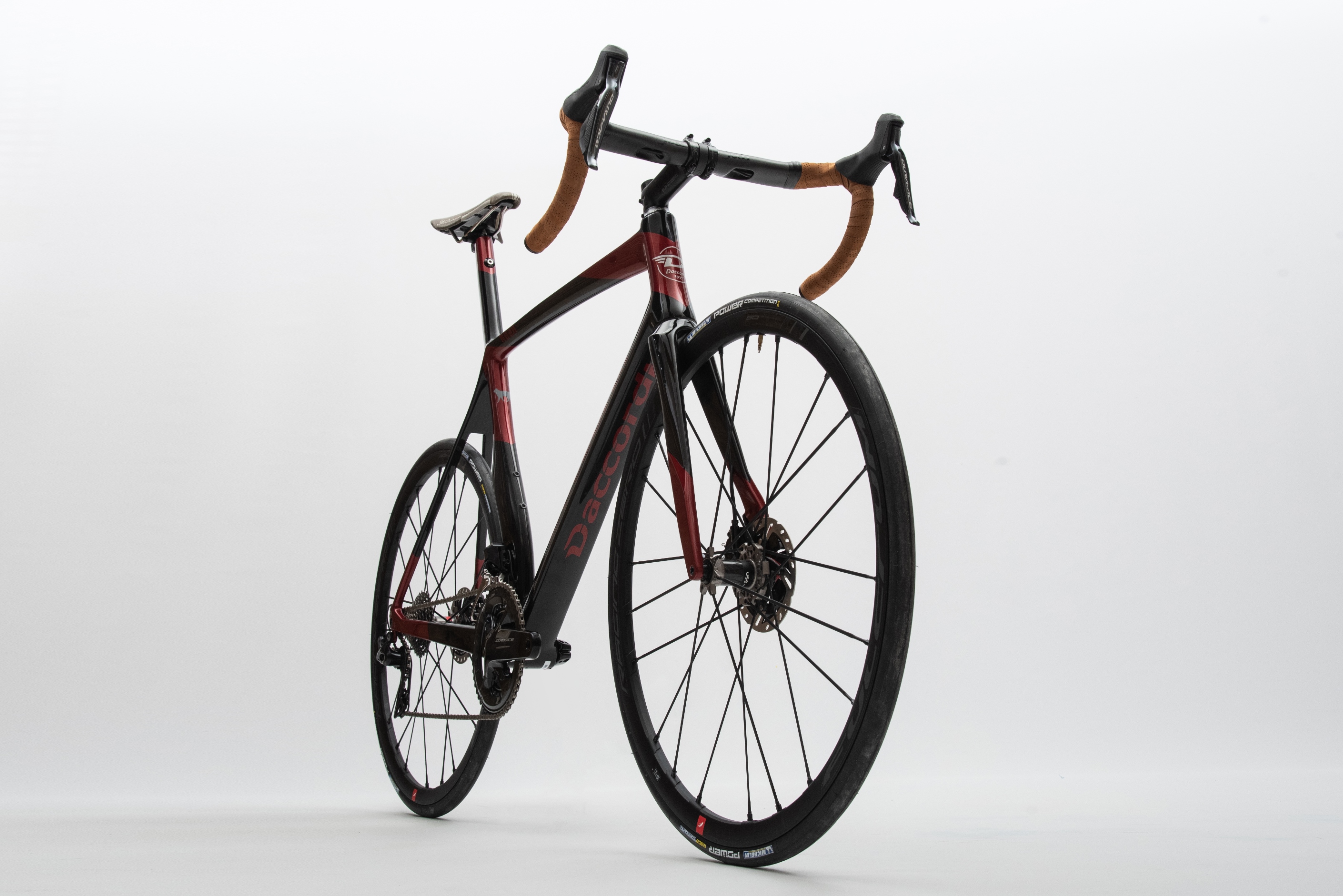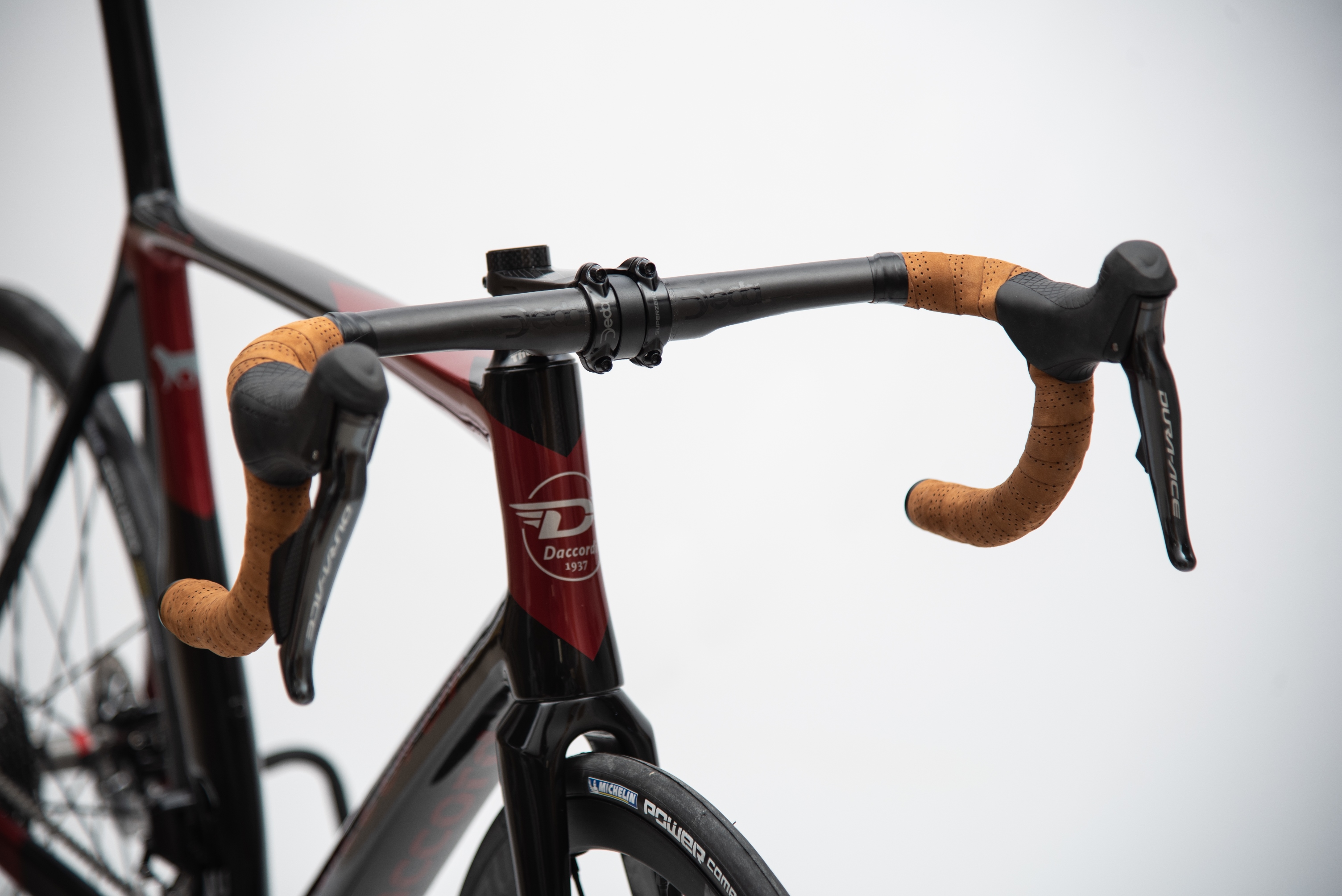 The Daccordi Noah represents the cutting edge technology of high performance carbon racing bicycles.  Noah is a modern frame with the highest quality carbon material and epoxy resins used in the bicycle industry.  Best of all the Noah is full custom.  Built in tube to tube method Noah can be built to measure in custom geometry to perfectly fit you.  And you can choose your tube shapes as Noah is offered in Aero, Semi Aero and Classic shapes in order to suit your riding needs and your personal look of the bicycle.  Noah is offered for rim brake for a classic lightweight and simple design, or disc brake which is perfect when riding in inclement weather and you can choose Noah disc in no cable design with a super clean look.  The choices are yours and Daccordi will build a totally personalized frame for you and to give you optimum fit.  Ahhh, we forgot to mention color:  Of course Daccordi will custom paint your Noah frame in design and colors.
How long until I receive my Noah frame set?  Daccordi shop is set up to build custom bicycles so your order does not get pushed to the back while they produce all the stock frames.  From time of deposit your custom Noah can be built and delivered in approximately 90 days
Frame set Prices
Noah rim brake.  $4595
Noah disc brake.  $4895
Complete Bike Prices
We suggest using the top level components and wheels to enhance the ride of Noah with perfect precision, comfort and lightness
For Noah Rim brake frame we suggest
Campagnolo Super Record group
Campagnolo Bora WTO wheels
Deda Superzero seatpost, stem and handlebar
Vittoria Corsa Next tires
Fizik Antares or Aliante R1 Adaptive saddle
Fizik Supercush Tacky bar tape
Total Price. $10,995
For Noah Disc brake frame we suggest
Sram Red AXS etap 12 spd group
Miche SWR disc wheel set
Deda Superzero stem and handlebar
Vittoria Corsa Next tires
Fizik Antares or Aliante R1 Adaptive saddle
Fizik Supercush Tacky bar tape
Total Price. $11,395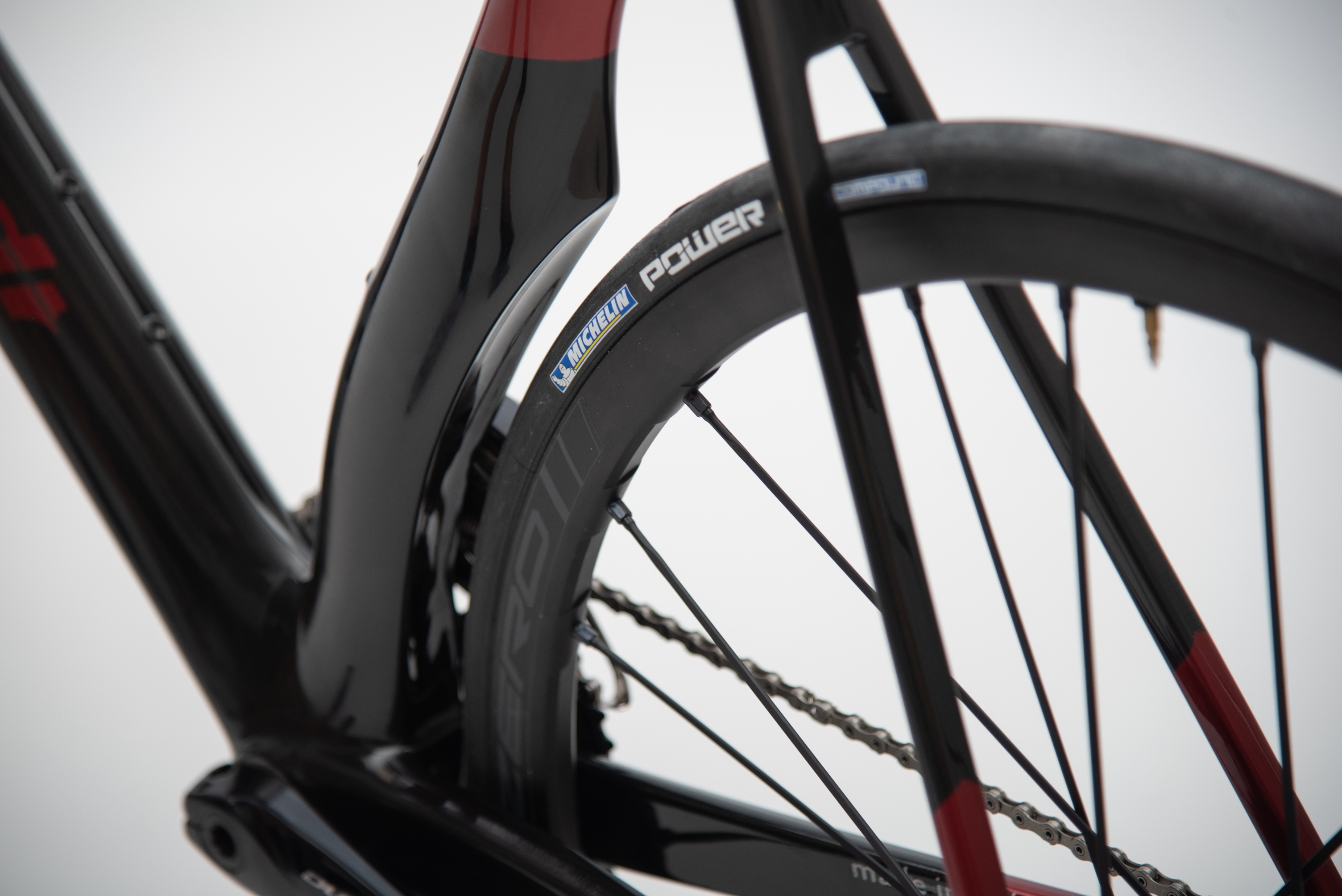 Of course we can spec the bicycle with your customized choose of components.  Contact 
greg@redroseimports.com
 or 717 560 2832 for your custom quotation
For all complete bicycles we fully assemble the complete bike, test all the settings and then carefully pack for shipping via Bike Flights.  Our technicians are experienced Campagnolo Pro certified.  You will have minor assembly when you receive the bicycle.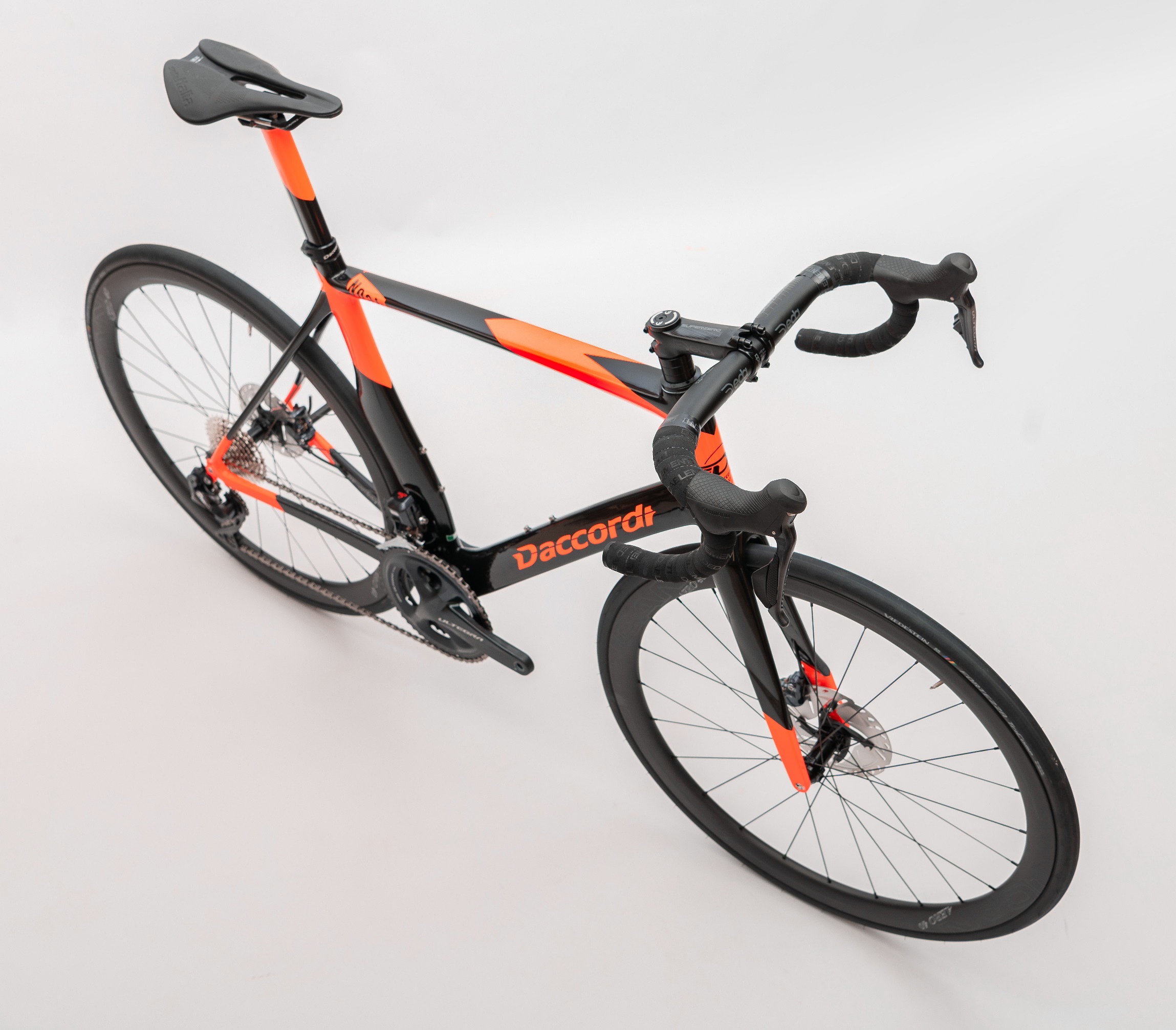 Idioma
Count on Daccordi Cycles to be a leader in style and modern design.  The latest carbon model, Idioma, epitomizes Italian style.  An exquisite bike to look at but even more pleasing to ride and completely made in Italy, the Idioma combines aerodynamic tube shapes matched to a compact rear triangle and a relaxed seat tube.  The top tube is horizontal and the quality of carbon along with the frame design absorbs vibration and stress from the road.  Daccordi Idioma is professional level race bike in terms of stiffness and reactivity but far more comfortable for us mortals that love the performance without the harshness of ride.  Idioma raw frame weighs 990 grams and the straight fork weighs 360 grams.  The Idioma utilizes the Deda ICR system of no cable look and uses 1 1/2 x 1 1/2 integrated headset.  Aerodynamic seatpost is included with each frameset.  Bottom bracket is press fit
Idioma Frameset Price. $3495
Gravel Frames
Profidea Gravel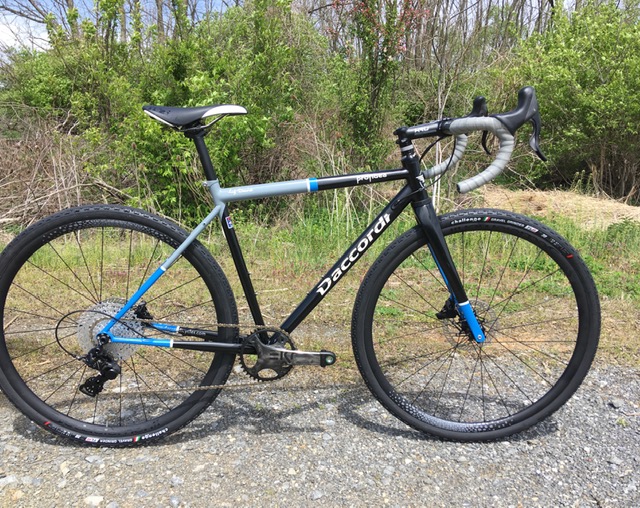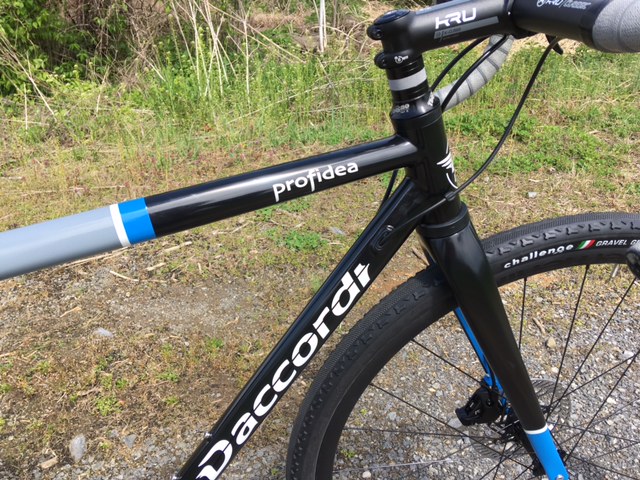 Following the success of the Profidea road frame the engineers at Daccordi found the gravel project to be a natural extension. Steel is the perfect material for gravel since it is incredibly durable and since the ride is both comfortable and exhilarating. Like the road version Profidea Gravel is fillet brazed with triple butted nobium alloy steel and a carbon gravel fork dresses the front end. Fork and head tube are tapered 1 1/8 x 1 1/2
Profidea accepts a wide variety of tire sizes from 700 x 28 to 700 x 42. Mounted with a pair of high quality road tires this Daccordi rides like a super fast road bike. Mounted with wider knobby tires the Profidea will handle even tougher single track. Frame has mounts for racks and fenders to make this bike super versatile.
Profidea Gravel Frame set Price  $3195
Our Profidea Gravel bike built with Campagnolo Ekar 1 x 13 group, Deda Gera alloy wheels, Challenge Gravelgrinder tires and KRU bar and stem weighs an incredible 20.25 lbs.  This is lighter than most carbon gravel bikes!
For a top level gravel frame like Profidea there is no component group better than Campagnolo Ekar.  With 1 x 13 gearing and a right shifter similiar to ergo power the Ekar group has flawless shifting.  The hydraulic braking system for Ekar has excellent stopping power, modulation and easily serviced.  Our kit includes all Italian components from Miche, Selle Italia, Deda and Challenge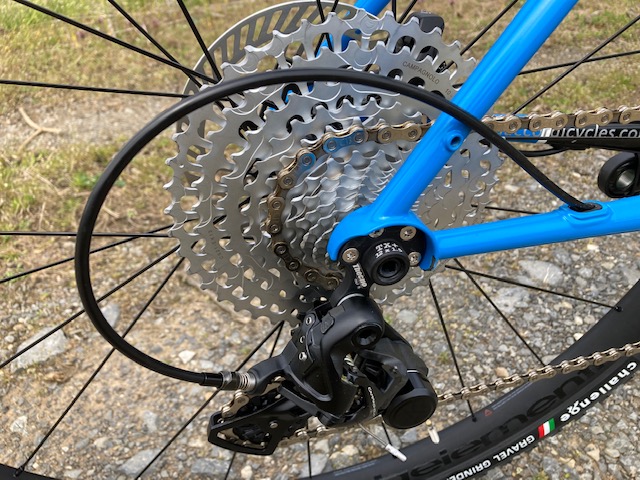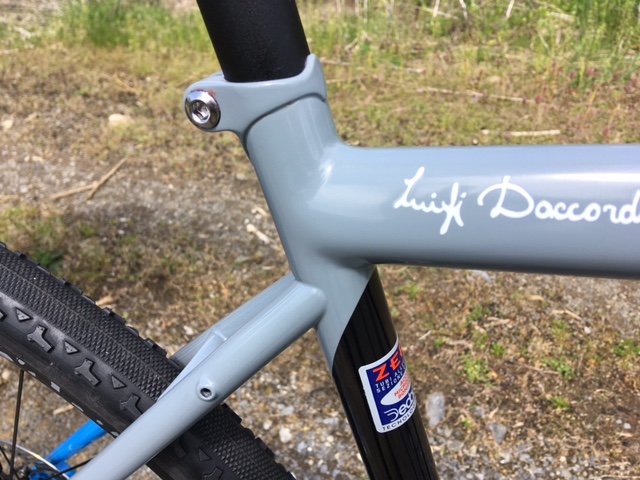 Profidea Gravel Complete Price
   includes
Campagnolo Ekar 1 x 13 group
Miche Graff wheels tubeless
Challenge Gravel Grinder TLR tires
Deda Gravel bar and stem
Deda Zero 100 seatpost
Selle Italia X Green Superflow saddle
Deda bar tape
Total Price. $6150
If you prefer electronic shifting system we offer Sram Rival 1x AXS etap group also complete bike for $6150
Each Daccordi complete bike is professionally assembled, adjusted and then carefully packed.  Each bicycle ships via Bike Flights with full insurance.  Minor  assembly required upon receipt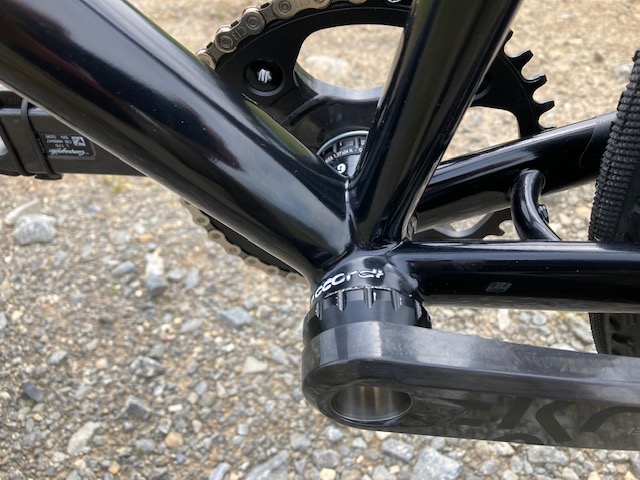 ---
Alterego
Daccordi Alterego is the most versatile of the Daccordi steel models. Alterego can be ridden on the pavement or gravel, is a great all weather commuter bike or mount racks and ride as a touring bike. It is difficult to classify Alterego and this model is designed for adventure, for sport or for leisure riding. With it's lugged steel construction and longer wheel base Alterego will provide all day comfort and an easy manageable ride.
Alterego is built with 4130 cromoly steel and features an 1 1/8 head tube and steel fork with flat crown. Maximum tire size is 42mm and frame has flat mount system for disc brakes. This is a very unique bicycle and of course is painted in Daccordi shop with most luxurious paint and finish. Alterego looks as good as it rides
Features:
4130 Cromoly with classic lugged construction
Flat fork crown steel fork with 1 1/8 steering column
Flat mount system for disc brakes
Rack and fender mounts
Frame weight of 1650 grams
Alterego Frameset Price $2195
---
Romea
The adventure begins off the paved road with Daccordi Romea gravel bike.  This frame is expertly welded by the masters at Daccordi shop.  Frame is built with hydroformed and heat treated light weight aluminum and fork is full carbon.  The stiffness of the alu frame tames even the steepest climbs and the carbon fork dampens the front end for a smooth ride.  The frame accepts up to 42c tires and has flat mount system for disc brakes.  Also included are rack mounts for the long day rides.
The Romea comes in 5 sizes XS to XL
Frameset Price:  $1495